The Lion Foundation for Dental Health(LDH) conducts research on the oral function and systematic health and conducts studies on preventive dentistry at dental clinics for all life stages.
The obtained research results are not only published through research papers and conference presentations but also applied towards LDH activities.
Health informatics and research activities
LDH makes an effort to advance research studies and provide the latest information and specific care techniques that are helpful to improve the health of the general public.
Research data obtained from LDH activities are collected and analyzed, and study activities are conducted in cooperation with universities and other facilities. Research results are widely provided to dental professionals and health educators through conference presentations, lecture meetings and seminars. In addition, the results were fed back to the LDH activities and applied to realize improvement of oral health for the general public.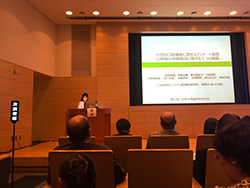 conference presentation
Clinical research activities in preventive dentistry
LDH makes an effort to advance dentistry to support health promotion of people, starting with babies.
Lion Tokyo Dental Clinic ( Gotanda, Tokyo )
The Lion Tokyo Dental Clinic started as the "The Lion Dental Clinic for children" established in Ginza, Tokyo in 1921.
Recently, the clinic practices "Risk control dentistry", which scientifically studies risks for dental caries and periodontal disease for each person and provides preventive measures and treatment according to the risks.