Oral health activities appropriate to each life stage, for the disabled, and in the local communities
Oral health activities appropriate to each life stage, for the disabled, and in the local communities
< For mothers and children >
Oral health activities for mothers and children started in 1958. These activities support expectant mothers as well as parents with small children in terms of mouth and teeth related child rearing.
The activities aim at improving the health awareness of the mouth and teeth for expectant mothers and parents, and instill good life-long habits in children.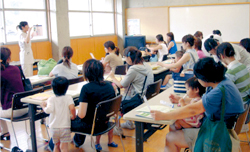 < For school children >
Oral health activities for elementary school children started as tooth-brushing training sessions conducted by specialized instructors dispatched to elementary schools throughout Japan in 1922.
Today, The Lion Foundation for Dental Health(LDH) dental hygienists are working to give age-appropriate awareness to oral health care and to help them to take on healthy behavior by themselves.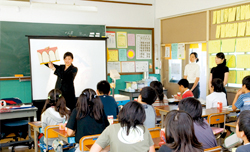 < For adolescents >
Adolescents often suffer from dental caries and gum diseases as their daily lives and diet tend to be disordered. In the oral health activities for adolescent children, LDH provides activities that aim to raise interest to health, to find their own problems, and to solve the problems to help establish a life-long healthy lifestyle.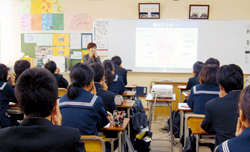 < For adults (Occupational health) >
In oral health activities for adults, LDH focuses on the activities for adults who are employees of companies. In 1961, the Lion Corporation started these occupational oral health activities for the first time in Japan.
These activities provide health guidance appropriate to the individual to keep a healthy mouth and set of teeth.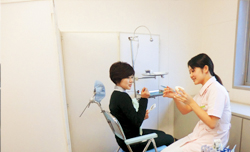 < For the elderly >
There has been increasing emphasis on the importance of living a healthy and vital life over a lifetime. In oral health activities for the elderly, LDH provides support with particular emphasis on keeping the mouth and teeth clean, and maintaining and improving the function of the mouth and teeth to maintain their health.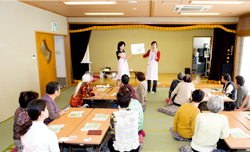 < In the local communities >
For oral health activities in the local communities, LDH provides outreaches aiming at the development of local communities with a high health awareness by promoting activities according to the community's characteristics and targeted people in cooperation with regional dental associations, governments and schools.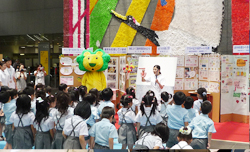 < For the disabled >
LDH engages in support on activities for the disabled, mainly for those who have visual or hearing impairments. We collaborate in the development of educational materials that can help visually impaired persons to learn about their dental health by touch examination. We also provide suitable activities for hearing impaired persons in sign language and by writing.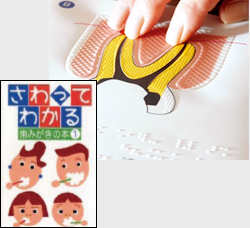 Braille manual for visually impaired persons